Exclusive! Intimacy choreography is a technical process: Naina Bhan on `Class`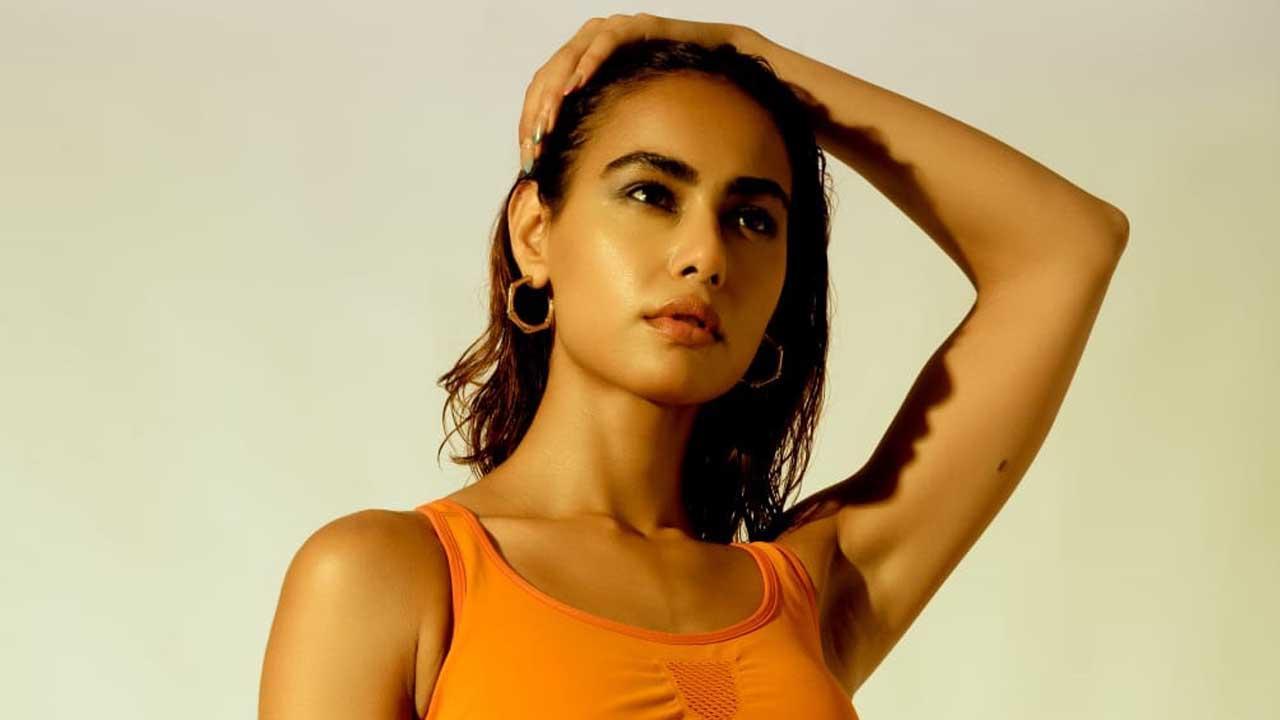 Actress Naina Bhan, predominantly a model and filmmaker talks about the challenges of playing Koel Kalra and kind of response she has been receiving for her debut show `Class` on Netflix.
How did you get roped in for Class?
I was a freelance model and used to audition for ads but playing Koel in `Class` was the first acting role I auditioned for. The moment I received the casting brief and read the words Netflix and Ashim Ahluwalia I knew I had to test and nail it. It was the middle of the lockdown so I gave a self test and completely forgot about it. About 6 months later I received a call that I got the part. I have grown up in Delhi, interacting with this world and these characters. It is easy for roles like Koel, an ultra privileged popular girl, to become a caricature. I was determined to bring vulnerability and authenticity to the table.
What was your prep like?


I felt a huge responsibility to do justice to the character and to the vision of the series makers. As a first-time actor, I had to learn quickly how to prepare for a role, especially since Naina and Koel are such stark opposites. While I am a tomboy who wears my heart on my sleeve, Koel is impeccably put together and enigmatic with her emotions. We had acting workshops to build our toolkit. I also went through a body transformation to truly embody Koel, who had to command everyone`s desire or jealousy with ease. The hair, makeup and costume teams played a crucial role in crafting her persona, and we all worked tirelessly on the smallest details to bring her to life. I`m proud to say that our hard work paid off and I believe we captured the essence of Koel in a captivating and believable way.
Were you hesitant about the intimate scenes?


Building trust and comfort with our scene partners was a key focus of the acting workshops. I was lucky to have Moses Koul and Cwaayal Singh, both impeccable professionals and wonderful supports, as my scene partners. The intimacy between our characters was unique, it was driven more by power dynamics than romance. We approached these scenes with that in mind and made sure to have an intimacy coordinator on set for guidance. Intimacy choreography is a technical process, with every beat of the scene pre-designed, much like stunt choreography. Working with an intimacy coordinator allowed us to execute these scenes with confidence and precision, adding another layer of authenticity to our performances.
The show received mixed reviews…
`Class` is a ground-breaking young adult thriller that pushes the boundaries of the genre and keeps you on the edge of your seat from start to finish. With its thought-provoking commentary on a range of social issues and its diverse cast of characters. `Class` offers something for everyone. Its visually striking style invites viewers to reimagine spaces and to experience the story as either a voyeur or an empath. What`s truly remarkable about `Class` is that, depending on your own context, you can approach the show from different perspectives and have a unique viewing experience. The show has generated a lot of buzz, and it`s exciting to hear that no two groups of people have the same favourite characters, moments, and scenes. This level of engagement and diversity of experiences is a testament to the show`s impact and its ability to resonate with audiences in new and exciting ways.
What kind of roles you wish to play in future?

Being a cinema buff with an academic degree in film making, my joy for acting is primarily fuelled by my love for film making. I want to play them all. My hear especially yearns for the challenge of comedy. As a boxer, I would bring a dynamic edge to action roles – an army woman or a cop. And as a die-hard romantic, I would be overjoyed to bring my softer side to the forefront and immerse myself in a full Bollywood experience. With my love for film-making and my charismatic personality, I am confident that I have what it takes to bring any character to life in a truly captivating way.
Also Read: Saif Ali Khan's Black Knight Films and Endemol Shine India to adapt hit Nordic drama `The Bridge`
Raj and DK celebrate `Farzi` success with Varun Dhawan on `Citadel` sets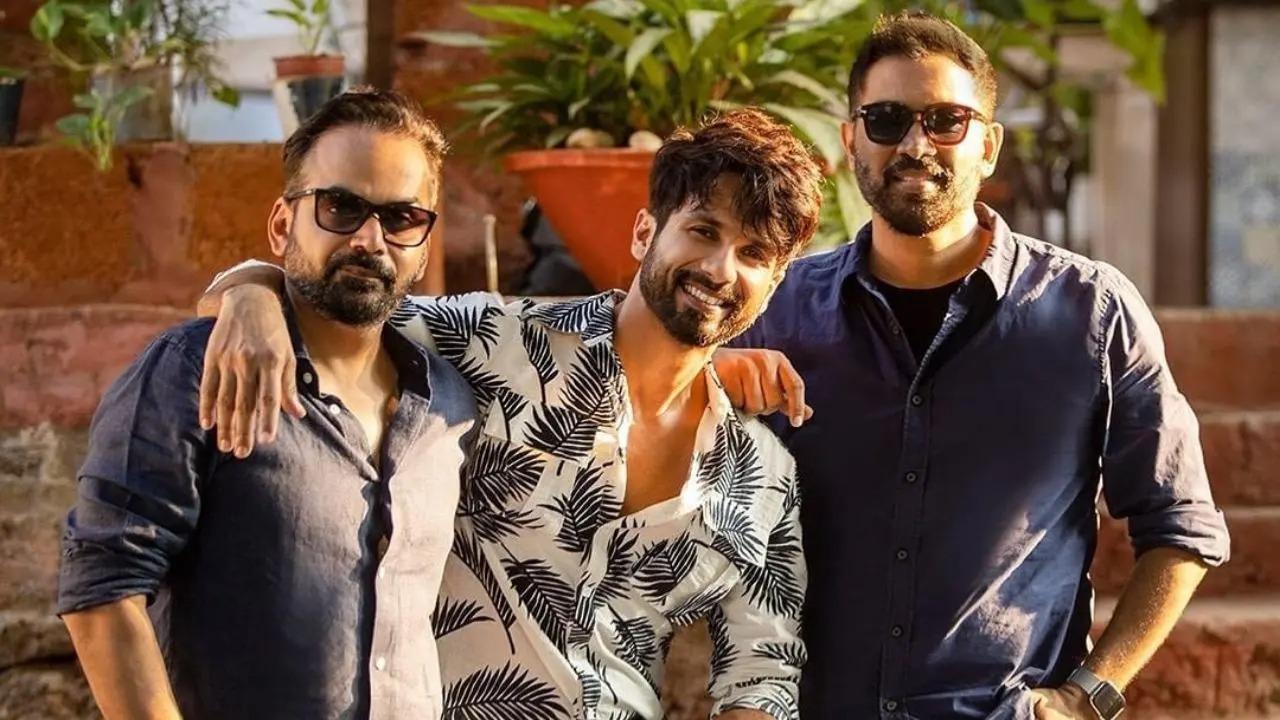 After `Farzi` was declared the most-watched Indian series of all time, directors Raj Nidimoru and Krishna DK couldn`t keep calm and went into celebration mode. Actor Varun Dhawan on Saturday shared a glimpse of celebration on `Citadel` sets.
Taking to Instagram stories, Varun treated fans with a video from Farzi`s celebration.
In the video, Raj and DK along with others were seen posing in front of `Farzi` celebration cake.
Sharing the video, he wrote, "Congratulations."
In the early hours of Saturday, Shahid shared a post revealing the data and details. In the caption, he wrote, "Farzi Fever…THANK YOU ALL SO MUCH."
The series directors Raj and DK have also shared a post saying, "Thank you all… for all the love!!"
`Farzi` features an ensemble cast including talented actors Shahid Kapoor, Vijay Sethupathi, Raashii Khanna, Kay Kay Menon, Bhuvan Arora, Regina Cassandra, and Amol Palekar in pivotal roles.
The story revolves around a life of a small-time con artist Sunny (played by Shahid), who finds himself drawn into the dark while creating a perfect con. However, a fiery and unconventional task force officer (played by Vijay Sethupathi) has made it his mission to rid the nation of the threat he poses.
Taking up an issue like counterfeiting which is termed as no less than a `financial terrorism` (in the series), the series is applauded for its content as well as performances.
Also Read: Bhuvan Arora, asli star of Farzi
Helmed by the acclaimed director duo, Raj and DK, the crime thriller marks the digital debut of Shahid Kapoor and Vijay Sethupathi. The lead actors have confirmed the second season of the series.
`Citadel` is being created by Raj and DK, `Citadel` also stars Varun Dhawan in the lead role.
Raj and DK will also serve as executive producers, under their banner D2R Films. The series is produced by D2R Films and Amazon Studios, with AGBO`s Anthony Russo, Joe Russo, Mike Larocca, Angela Russo-Otstot, Scott Nemes, and David Weil (Hunters) overseeing production on the Indian Original and all series within the global Citadel universe.
The international version of `Citadel` is created by the Russo Brothers and stars Richard Madden and Priyanka Chopra in the lead roles.
The release date of the Indian version of Citadel is awaited.
This story has been sourced from a third party syndicated feed, agencies. Mid-day accepts no responsibility or liability for its dependability, trustworthiness, reliability and data of the text. Mid-day management/mid-day.com reserves the sole right to alter, delete or remove (without notice) the content in its absolute discretion for any reason whatsoever
Suniel Shetty promotes `Hunter` in a cool video featuring Quick Style, Watch!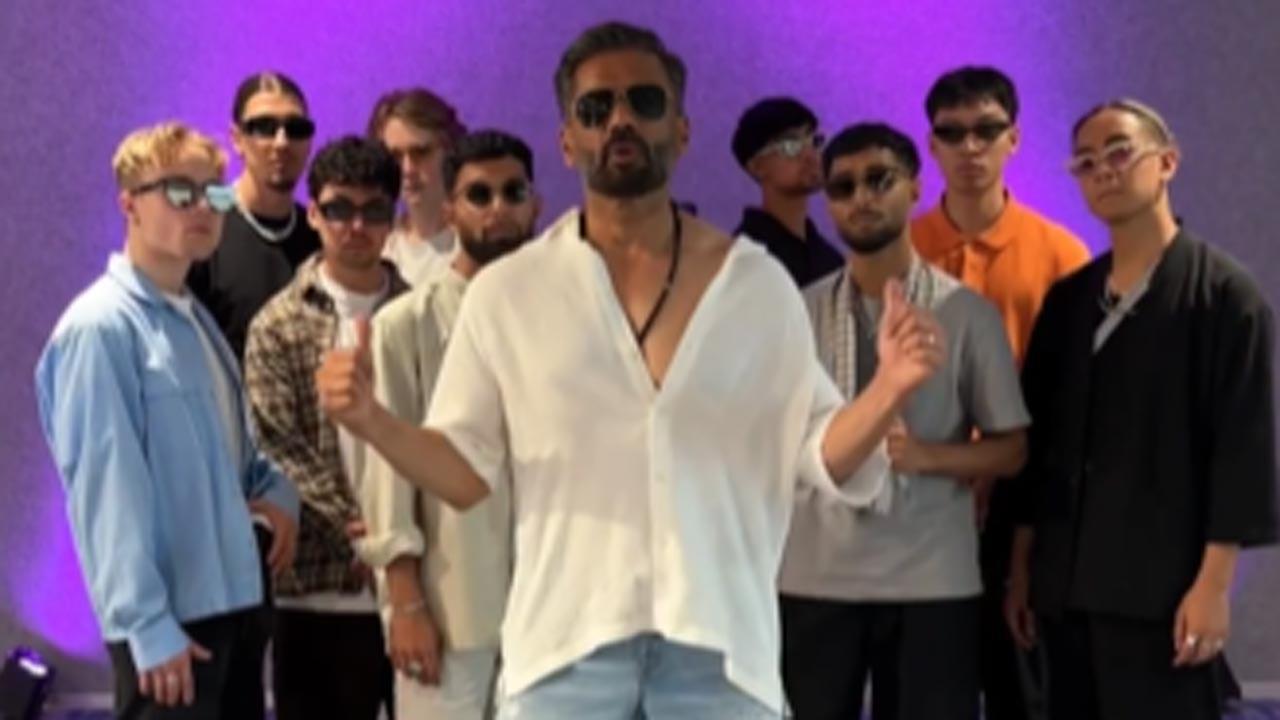 It`s not the first collaboration between actor Suniel Shetty and Norwegian dance group Quick Style. For the promotion of his new thriller `Hunter` on Amazon mini tv, Suniel once again teamed up with Quick Style.
Taking to Instagram, Suniel posted a short video with the caption, "@thequickstyle joining the hunt with #Hunter ACP Vikram. Just like I say in the show – Rokna Hai Toh Thokna Padega!" Suniel and the members of the band Quick Style showed their swag and style in the video.
This action thriller features stars Suniel Shetty in the lead as A.C.P Vikram Sinha, Esha Deol, Rahul Dev, Barkha Bisht, Mihir Ahuja, Teena Singh, Chahat Tejwani, Karanvir Sharma, Siddharth Kher, Gargi Sawant and Pawan Chopra in pivotal roles.
View this post on Instagram
"It feels like yesterday we were shooting and today we are already unveiling the show trailer. It was surely a special experience and journey working with such talented people on & offsets. My character is very interesting, and he has a trait which will make the viewers want to know more of him. I enjoyed playing ACP Vikram Sinha thoroughly. I hope the viewers enjoy watching this show for which they have been eagerly waiting," Suniel said about the project.`
Also Read: Suniel Shetty on `Hera Pheri 3`: Kartik Aaryan is a brilliant choice, but he is not playing Raju
The group Quick Style rose to fame after recreating hook steps of popular Bollywood songs such as `Sadi Galli` from the film `Tanu Weds Manu` and `Kala Chashma` from `Baar Baar Dekho`.During their visit to India, Quick Style also spoke to ANI. They expressed their love for Indian songs.
"For us, the song Kaala Chashma and every song that is popular in this world..it`s not anyone`s, it`s everyone`s. And the people that watch our show, we feel they are our family, our group, our supporters, so we are together. So the song is ours," the group said during their Mumbai tour.
This story has been sourced from a third party syndicated feed, agencies. Mid-day accepts no responsibility or liability for its dependability, trustworthiness, reliability and data of the text. Mid-day management/mid-day.com reserves the sole right to alter, delete or remove (without notice) the content in its absolute discretion for any reason whatsoever
Siddharth Roy Kapur: We made sure to humanise the characters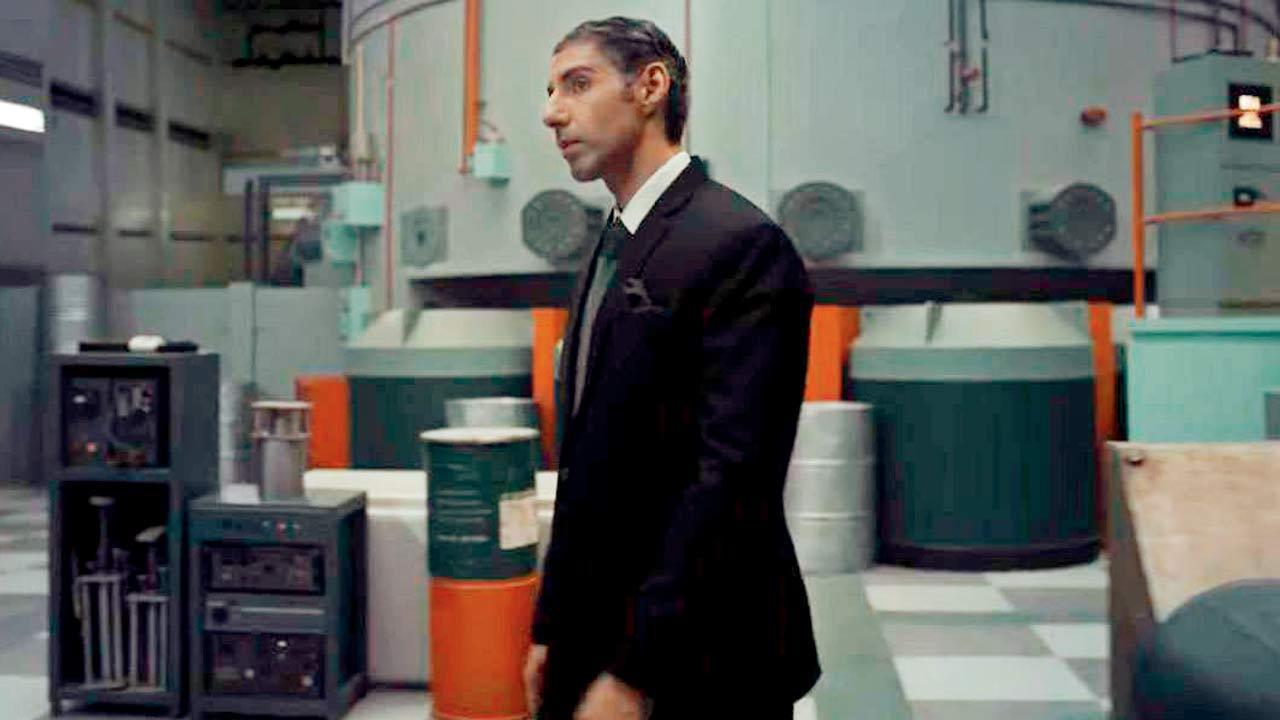 Rarely has the second season of a series matched the brilliance of the first. Rocket Boys finds itself in that coveted club, with the latest edition of the Jim Sarbh and Ishwak Singh-starrer opening to wide praise. So, what's the secret to the success? Producer Siddharth Roy Kapur attributes it to how director Abhay Pannu has humanised the protagonists, Homi J Bhabha and Dr Vikram Sarabhai. "We thought it was important to stick to the facts, but obviously dramatise them because that is important to creating a compelling series. We made sure to humanise these characters. Often, we depict these icons as demigods. But I believe such icons are more heroic when they have the same vulnerabilities and flaws as you and I do. Despite their flaws, they go ahead and achieve such great things. Abhay and his team have managed to show that," explains the producer.
The second season of the SonyLIV series chronicles Bhabha and Sarabhai's efforts to make India a nuclear power. While the drama is further elevated by fine performances, Sarbh steals the show with his portrayal of the dynamic Bhabha. Kapur agrees that the actor's casting was a masterstroke. "It's one of those few times when the role chooses an actor, and vice versa. It felt organic for Jim to play Homi Bhabha. He has portrayed the brilliance, humanity and sensitivity of Bhabha beautifully."
Also Read: Nikkhil Advani: No one chose to make a show like this
Siddharth Roy Kapur