Alicia von Rittberg: The idea is to see it through her eyes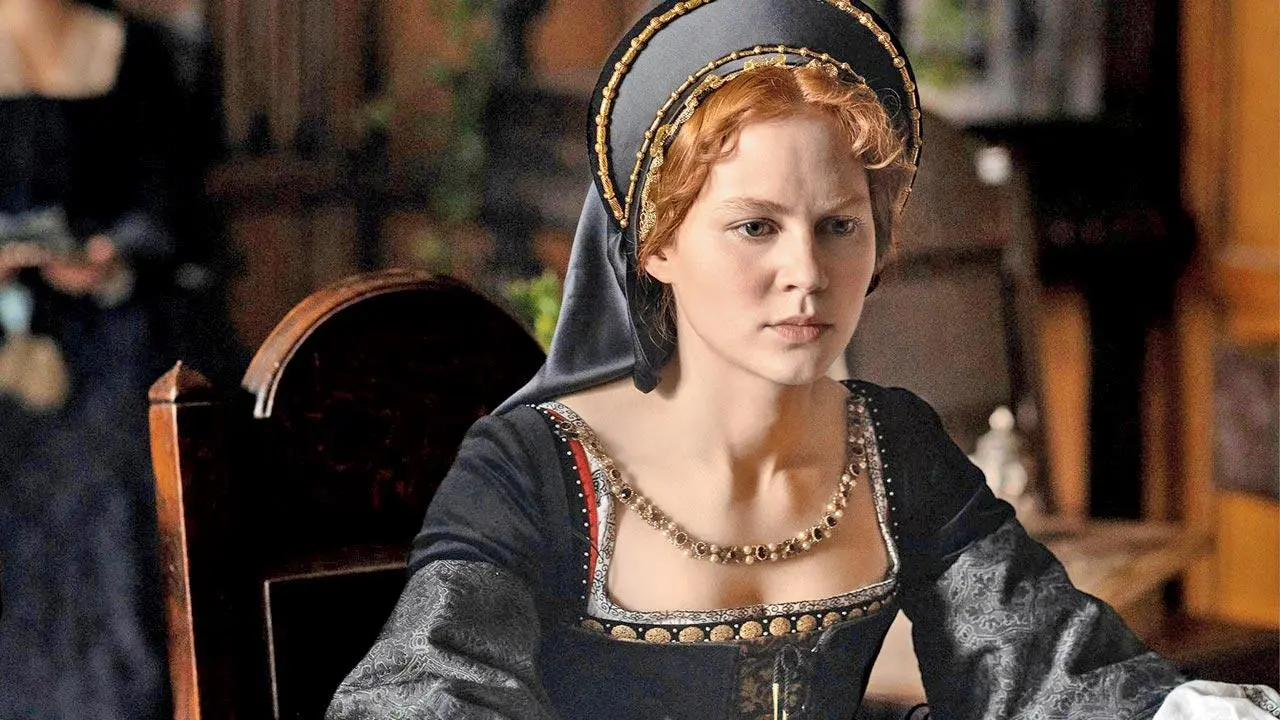 There's an air of intrigue to royalty, and for long, filmmakers have been obsessed with the early monarchs. One ruler that has often fascinated storytellers is Queen Elizabeth I. From Shekhar Kapur's `Elizabeth` (1998) featuring Cate Blanchett, to the 2007 television series, `The Tudors`, and Anne Boleyn featuring Jodie Turner-Smith, the queen's life has been captured through different lenses. The latest to join the list is `Becoming Elizabeth`. The Lionsgate Play series focuses on the early years of Elizabeth Tudor, an orphaned teenager who becomes embroiled in the politics of the English court on her journey to secure the crown.
Alicia von Rittberg starts the conversation by admitting that being a German, she was surprised to receive a call to play the British queen. "In the beginning, I was tapping into the traditional way of portraying the queen or a princess — well-behaved, smart, and outspoken. Once I spoke to Anya [Reiss, creator], I realised how much I only looked at the person and forgot about the cold world she grew up in," says Rittberg, adding that constant conversations with director Justin Chadwick helped her delve deep into the character. "She grew up in the countryside. Despite her free-spirited nature, she was an orphan brought up with [a sense of] duty and rigid instructions. That was something I didn't see [earlier]."
Also Read: Eat like a queen
Among other things, the series focuses on Elizabeth's equation with baron Thomas Seymour. There is a debate on how the makers romanticised her abusive relationship with Thomas, played by Tom Cullen. Rittberg reasons that considering the series is told from Elizabeth's point of view, it was necessary to adopt that route. "It is easy to [misunderstand] if you only see a few episodes. She is falling in love with Thomas. [At first], it seems like a beautiful relationship with a charming and nice guy. The idea is to see it through her eyes. [Had she seen his flaws], she would never fall for him. So, the only way to do this was by making the audience fall in love with the predator, and then wake them up from this nightmare as soon as she understands what happened to her. That is the only way to tell that story, to make people feel how things like that can happen. I absolutely stand behind [the story]."
Embracing intense characters for months on end can take a toll on artistes. The actor remembers diving so deep into her character that at one point, she believed Thomas had honest intentions despite the obvious toxicity. "We were discussing whether Thomas loves her or not. While Anya said he is taking advantage of her and [others opined] that he was disgusting, I was so in her headspace that I manipulated myself into saying, 'But I do think he loves her, and it is real.' Everyone [stared] at me and asked if I was crazy. I was shocked by my own impulse. [When] you spend seven months filming and half-a-year in prep, sometimes you become the person."
The actor hopes that the series lends itself to another season. Elizabeth's journey to the crown, after all, is dotted with several fascinating stories. How does she see the character evolve ahead? "She will come into her own. At the moment, she is observing and learning. She has realised that no matter what she does, the world will be against her. She will become fiercer and stronger."
Mohammed Zeeshan Ayyub: Made a panic call to Hansal before shooting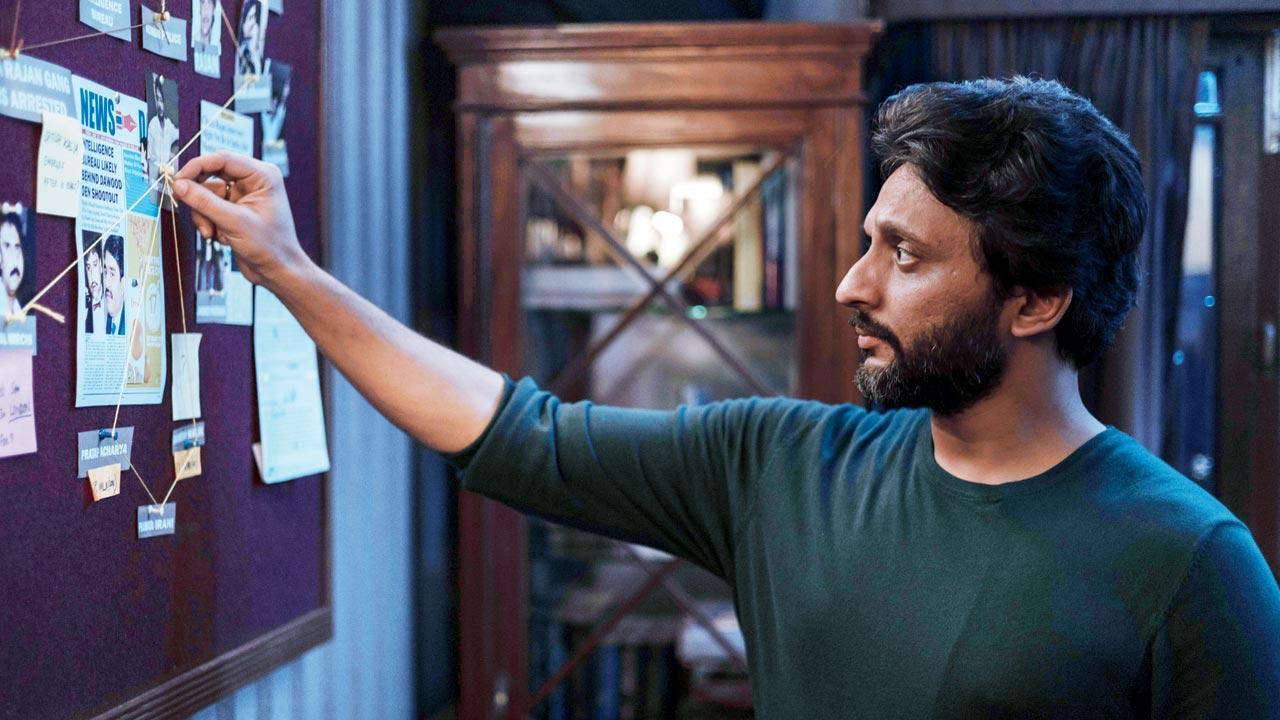 Mohammed Zeeshan Ayyub is perhaps a classic example of how a talented actor can shine, regardless of his screen time. Even in his latest offering Scoop, the spotlight may not be on him, but the actor will make you sit up and take notice. He plays the editor-in-chief of a newspaper in the Karishma Tanna-fronted Netflix series, which is helmed by Hansal Mehta and based on Jigna Vora's book, Behind Bars in Byculla: My Days in Prison. While he was happy to reunite with Mehta after Shahid (2013) and Chhalaang (2020), Ayyub admits that he was initially jittery about the role.
Hansal Mehta
"I made a panic call to Hansal two days before the shoot, [asking him] how to shape the character of Imran. He calmed me down and explained how Imran would behave and talk. On set, he ragged me a lot, but he also took care of me," grins Ayyub. Grasping the role, he says, was tough since he hadn't read the source material nor did he have a direct reference for the character. "[As actors], we usually interact with entertainment journalists, [and our conversations] are always fun. But when playing an editor-in-chief, you have to showcase the calmness, the responsible nature, and the ability to work without hurting the sentiments of any party."
Since making his debut with No One Killed Jessica (2011), the actor has played myriad roles. "I've consciously tried to [avoid being] stereotyped. It is natural to get similar roles. The benefit of working with Hansal is that he can imagine you in different parts. I had to go beyond my [range] as a performer for this role."
`Scoop` Web Series Review: That Dey…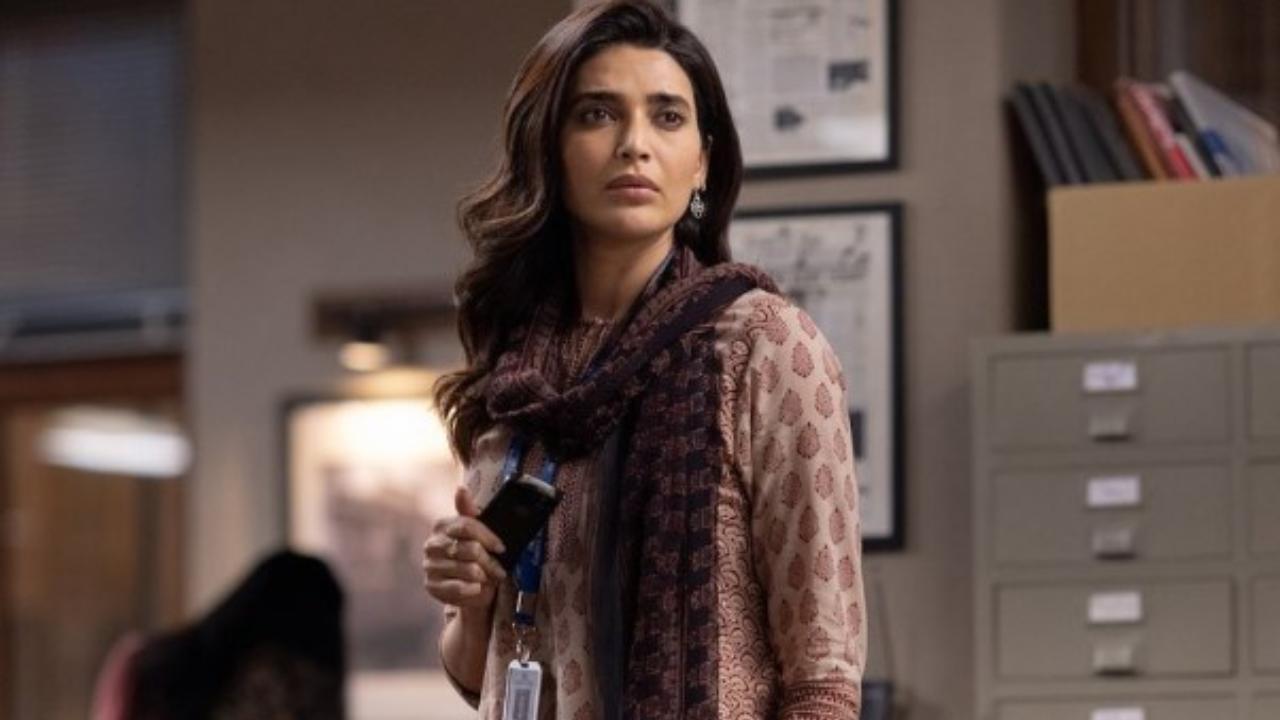 Web series: SCOOP
Platform: Netflix
Cast: Karishma Tanna, Mohd Zeeshan Ayyub
Creators: Hansal Mehta, Mrunmayee Lagoo
Rating: 4/ 5
Really, there's a thin line between a super scoop, and something that subsequently makes everyone cringe, "Oops!" This depends wholly on how cross-checked/researched the facts are in a journalistic story — without rushing into hearsay, half-truths, in order to mix sufficient masala, or simply meet a deadline!
The same can be said for fiction, based on a true story. Facts elevate it. Credibility equally counts for everything.
The series, `Scoop`, by Hansal Mehta — jointly sharing creator-credit, or by-line, as it were, with Mrunmayee Lagoo — is about the murder of Mumbai's seasoned journalist, J Dey (1955-2011).
He was shot dead by contract killers in the posh Hiranandani Gardens in Powai, around a square, that is now named after Dey himself (a first, perhaps, for a city scribe).
This assassination scene is quietly, yet dramatically, shot in Scoop. When he passed on, Dey used to be the crime & investigations editor at Mid-day. Which is the publication you're reading this in.
Goes without saying, this series means a lot to my colleagues. Many other characters are inspired by people I've worked/interacted with. If you sense any bias, therefore, it must merely be excused as expected.
Still, Dey — fictionalised as Jaideb Sen (Prosenjit Chatterjee; Bengal's stalwart, and OTT's latest find) — appears for barely a few minutes over a six-part series. There is a sensitive, long-shot, wholly under a soft background score — of doctors announcing his death, at the end of first episode.
The show is entirely centred on Jigna Vora — named Jagruti Pathak (Karishma Tanna, in phenomenal form) — who used to be Dey's competitor in the crime beat, at Asian Age (called Eastern Age here).
Vora was charged with abetting Dey's murder — by allegedly passing on his personal details to the underworld don, Chhota Rajan; who, in turn, ordered the hit.
She was lodged for several months in prison. The evidence against her, according to this series, was screamingly circumstantial, hence speculative. What had really happened? That's Scoop for you — from a particular angle/POV/peg, if you will.
The detailing that follows, never descending to obvious melodrama, is a far cry from, say, the picture, Page 3 (2005), that similarly surveyed Mumbai tabloid journalism, also with the mid-day newsroom for an obvious nod.
If anything, this is a fine follow-up to Hansal Mehta's own, Scam 1992 (Sony LIV) — that, likewise, lenses print reporters on the field (working in tag-teams of two), and looks at the Gujarati middle class (sizeable portion of Mumbai), through their homes. Scam (2020), of course, was essentially a biopic of stock-broker Harshad Mehta.
The first thing you noticed about that stellar series — which is progressively getting common on the OTT scene — are relatively lesser-known, multiple actors, matching the best roles, creating an unusual chemistry, that audiences had been deprived of, with 'saas-bahus' on network television, and hero-centric mainstream cinema, forever.
It's the same with Scoop. Take Harman Baweja, for example. Around the time this series is set, Baweja was being foisted as a replacement for Hrithik Roshan for a Bollywood superstar. He altogether disappeared from the screen thereafter. With him as a cop heading the Mumbai Police crime branch, modelled on Himanshu Roy — you can tell how we may have lost a great actor instead!
You similarly observe handpicked performers, even for walk-on parts, down to the rando reading the news on TV — that's the YouTube sensation, Danish Sait, no less. Together, this tight ensemble — Mohd Zeeshan Ayyub (as the newspaper editor) onwards — brilliantly brings out a world believably alive.
At its heart, `Scoop` is about the nexus of politics, crime, business, and news media — particularly in a way that they converge in a city like Mumbai. The lowly-paid journalist, in the middle of all this, sometimes looks like Icarus, before the powerful sun. Because that's the job, isn't it?
And yet, if they're not distant/careful enough, it could finish them off completely. There is no such thing as a free tip-off. The fine balance between lone-wolf and mouthpiece is hard to maintain.
The protagonist, Jagruti Pathak, is a star crime-reporter. Which, chiefly entails, access to top cops; and surely the relevant criminals, too. Being in an English language newspaper (over regional/Hindi press in Mumbai), substantially helps. This is strangely true, whether you cover politics or pop-culture.
Being a woman doesn't help — if you have to constantly fight off sexual rumours to explain professional success. Her rise depends on stringing sources, leads, landing exclusives. Page One is the daily, holy grail. What if the tables turn? She finds herself getting eaten by the same headline-hunters she would once compete against!
The humiliation is complete. She was, after all, booked for organised crime. In the same way that so many journalists have been tried for terrorism, for reporting news. It is relevant analogies and insights like these that lift Scoop from simply a story of Dey's death.
Also Read: `The Boogeyman` movie review: Generic and old-fashioned 'not-so-scary' movie
A lot like the subjects he covered, Dey himself was a mysterious kinda figure. By 2010 or so, I'd read his crime columns, wondering if the Bombay underworld (seemingly long-dead), was only in his head. This is, of course, before his tragic, frightening demise.
Scoop offers an alternate theory to his murder. It's based on Vora's book, Behind Bars in Byculla — on the price of her time in jail. It's more a deep-dive into the crime (reporting) scene, than Orange is the new Black!
Can't wait for my colleagues to watch this first-rate series, so we can animatedly discuss it at the Press Club — now, that's the bar we can afford. It's not as posh as in this show. Neither are the suited scribes!
Alia Bhatt, `The Archies` cast to attend global fan event by Netflix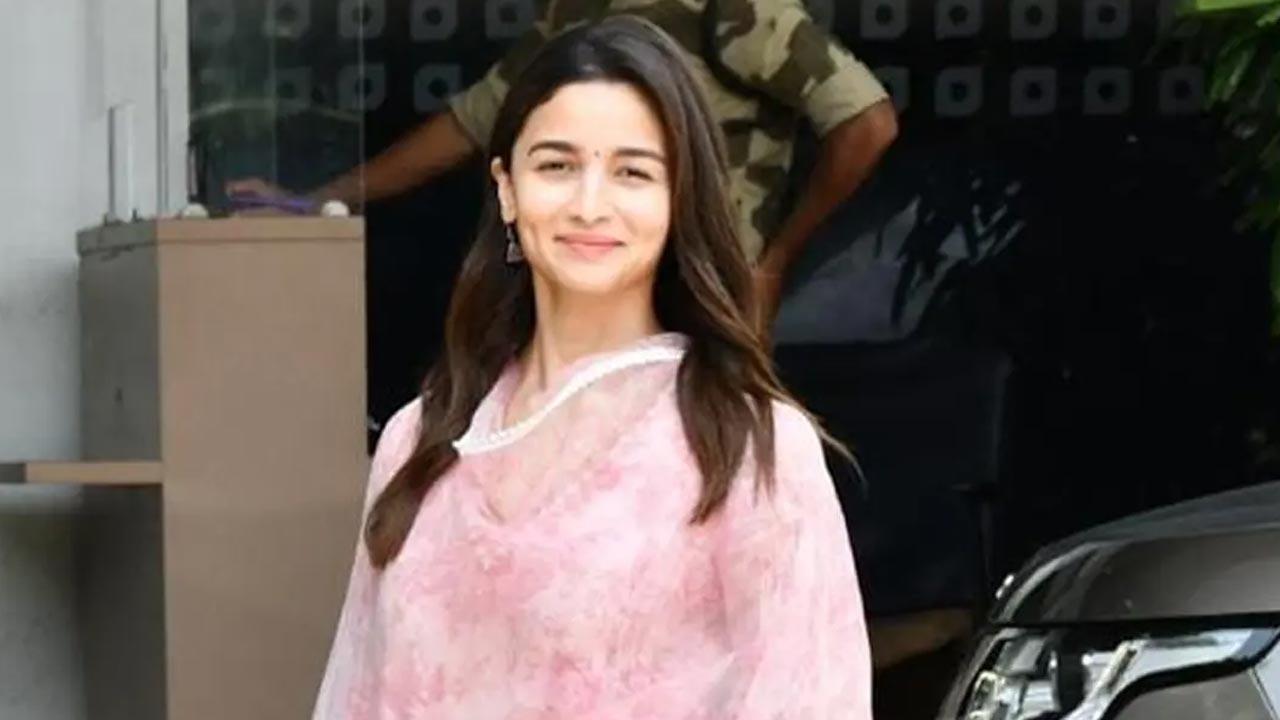 Streaming platform Netflix on Thursday announced it will treat fans with exclusive first looks from returning and upcoming titles through global event `Tudum`, which will be attended by Indian star Alia Bhatt and the cast of "The Archies", directed by Zoya Akhtar. After two years as a virtual event, the 2023 `Tudum` livestream will be broadcast live around the world on June 17.
The three-day convention event will be held from June 16 to 18 in Sao Paulo, Brazil. Bhatt will participate as one of the cast members of the Netflix film "Heart of Stone", which marks her Hollywood debut. Her co-stars Gal Gadot and Jamie Dornan are also part of the talent line-up. The cast of "The Archies" — Khushi Kapoor, Suhana Khan, Yuvraj Menda, Agastya Nanda and Vedang Raina — will also attend the showcase.
`Tudum`, a two-hour event, will feature Netflix stars and creators from across the globe and present feature never-before-seen footage, trailers, and first looks of the upcoming series, films and games, a press release issued by the streamer read. Hollywood star Chris Hemsworth and director Sam Hargrave will talk about their movie "Extraction 2" at the extravaganza, which will also see stars of "The Witcher" season three Henry Cavill, Anya Chalotra, Freya Allan, and Joey Batey, as well as Zack Snyder, Deborah Snyder, and Sofia Boutella for "Rebel Moon", and "Avatar: The Last Airbender" cast in attendance.
There will be special appearances by the "Stranger Things" team; Jenna Ortega, Hunter Doohan, Emma Myers and Joy Sunday for the series "Wednesday"; Ralph Macchio and William Zabka for "Cobra Kai"; and John Boyega and Teyonah Parris for "They Cloned Tyrone". For fans based in or travelling to Sao Paulo, the global live stream event is ticketed separate from the activities inside the Bienal and will be available for free starting June 2 on a first-come, first-serve basis through Tudum.com/event.
This story has been sourced from a third party syndicated feed, agencies. Mid-day accepts no responsibility or liability for its dependability, trustworthiness, reliability and data of the text. Mid-day management/mid-day.com reserves the sole right to alter, delete or remove (without notice) the content in its absolute discretion for any reason whatsoever